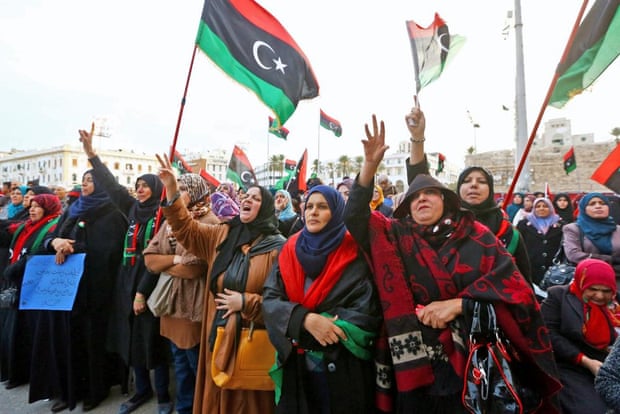 Libyan protesters at a rally in Tripoli's Martyr's Square in support of "Fajr Libya" (Libya Dawn). Delegates from Libya's rival parliaments recently held indirect talks aimed at ending months of of violence. Photograph: Mahmud Turkia/AFP/Getty Images
International efforts to resolve the crisis in
Libya
after the fall of Muammar Gaddafi must forge agreement between the warring parties to forestall the emergence of a failed state that could become a "Somalia-on-the-Mediterranean," the UK government's special envoy has urged.
Jonathan Powell
, a veteran of the Northern Ireland peace process, warned in an interview that violent chaos in Libya will spread to its neighbours and to Europe and Britain if left unchecked.
The brutal killings and
the continuing flight of migrants via the Mediterranean coast
are bleak reminders of the repercussions of the country's breakdown. François Hollande, the French president, and Abdel Fatah al-Sisi, his Egyptian counterpart, called on Monday for the UN security council to meet over Libya and to take new measures.
"Libya is in a downward spiral that we need to reverse and turn into an upward one," Tony Blair's former chief of staff told the Guardian. "There is a good deal of immediacy about this. But these things don't happen overnight. You've got to rebuild trust that has been badly broken."
Powell, appointed by David Cameron last spring, is talking to the armed groups that have pushed the oil-rich north African country to the brink since its 2011 revolution, Nato and Arab military intervention and bloody regime change.
Libya, he argues, has the advantage of not being plagued by religious sectarianism as most of its 6 million people are Sunni Muslims. "If you look down a telescope from Washington or London or Brussels it is easy to make all these places look the same," he said. "But this is a struggle for power and for money to a certain extent. It ought to be possible to reach agreement more easily than it is in Iraq or Syria."